Residential energy adv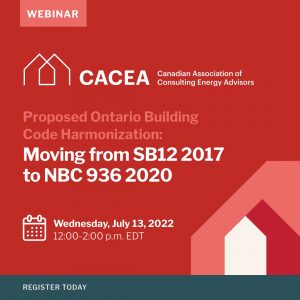 isors and code compliance consultants share their thoughts for CACEA's informative roundtable discussion for municipal building/planning departments, developers, home builders and designers.  Special thanks to facilitator Andy Oding REA, Building Knowledge Canada and panelists Angela Bustamante REA, Building Knowledge; Dave Potter, Building Code Instructor, Ontario Building Officials Association; Jack Zhou REA, A & J Energy Consulting; and Mark Rose REA Building Energy Inc.
The discussion addressed:
Brief overview of NEW energy benchmarks and targets associated with the NBC 2020 9.36.
Panel discussion identifying challenges and opportunities with the proposed changes. The panel includes CACEA members and experienced registered energy advisors and building code
consultants Angela Bustamante, Dave Potter, Jack Zhou, Mark Rosen and Miyoko Oikawa.
The role of CACEA and registered energy advisors assisting with energy code compliance in Ontario and across other provinces, territories and municipalities.